Episode 1/3 – Bienvenidos a Barcelona
Team EDIT arrived in Barcelona around lunchtime on Thursday.  After checking in to the hotel, we headed straight to Fira de Cornella – the enormous exhibition centre that is home to Spannabis 2015 – to meet our buddies who were setting up their booths in readiness for the opening day.
We lent a hand, helping some of the exhibitors set up stall and caught up with some old friends.  There is a staggering amount of work that goes into putting on events of the size of Spannabis, and it was fascinating to get a perspective from behind-the-scenes.
The following morning, and huge queues of visitors snaked their way around outside the arena.  The crowds were entertained by a live street band as they patiently waited to pick up their entry wristbands and gain access to the event.  To a mammoth roar from the crowd, a little after 11am, Spannabis 2015 was officially open for business and the fun could begin.
Right from the start, we need to explain the sheer scale of this event: Spannabis is huge.  We've been here the last few years, but the 2015 set-up is easily the largest that the event has ever been.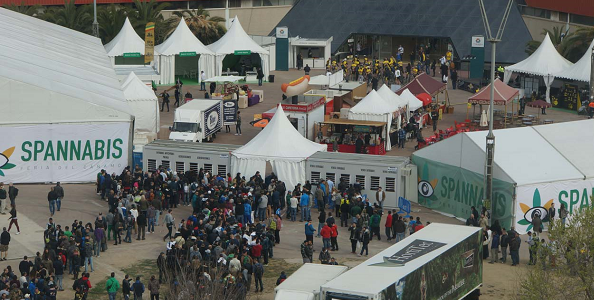 The exhibition is set over 3 main spaces: two massive marquees and the main exhibition centre hall – which as previously mentioned, is enormous.  In the middle of all three exhibition spaces is a sprawling courtyard, filled with some pretty awesome catering concessions, lots of seating, bars, and an outdoor stage with live acts playing all day long.  What's not to like?
The Spannabis expo is essentially a Who's Who of the cannabis and hemp industry.  It would be easier for us to tell you who isn't here than list all the exhibitors.  We wandered around and drank in the atmosphere:  We saw Crockett of Crockett Family Farms with his wife at the DNA Genetics stand – this is the guy who bred Tangie!  We talked with him for a good while and found out all about Tangie and his other awesome strains.  We hung out with Chris from Amsterdam Glassworx who gave us some cool glass dabbers that he'd brought for promotion.  We chatted with Andrew – the guy behind the Puff-It range of vaporizers.  He demonstrated his new Puff-It 2 vaporizer and we were very impressed.  Stay tuned to the blog and our social media channels for more news on that very soon.
The evening saw a whole bunch of us head to a lovely seafood restaurant at Port Olimpico for a celebratory dinner and a few well-earned cervezas.  Spannabis 2015 looks like a triumph and it's only just begun.  Bring on tomorrow…….