The Volcano vaporizer from Storz & Bickel has, for many years, reigned supreme over the desktop vaporizer market.
It is easily the sleekest, best-built, best performing home vaporizer – a yardstick by which all other desktop vaps should be measured.
Although there are many other desktop vapes available, none of the offerings can hold a candle to the Volcano.  Until now.  It's just possible that the team at VapeXhale have created a challenger to the Volcano's crown – the VapeXhale Cloud Evo.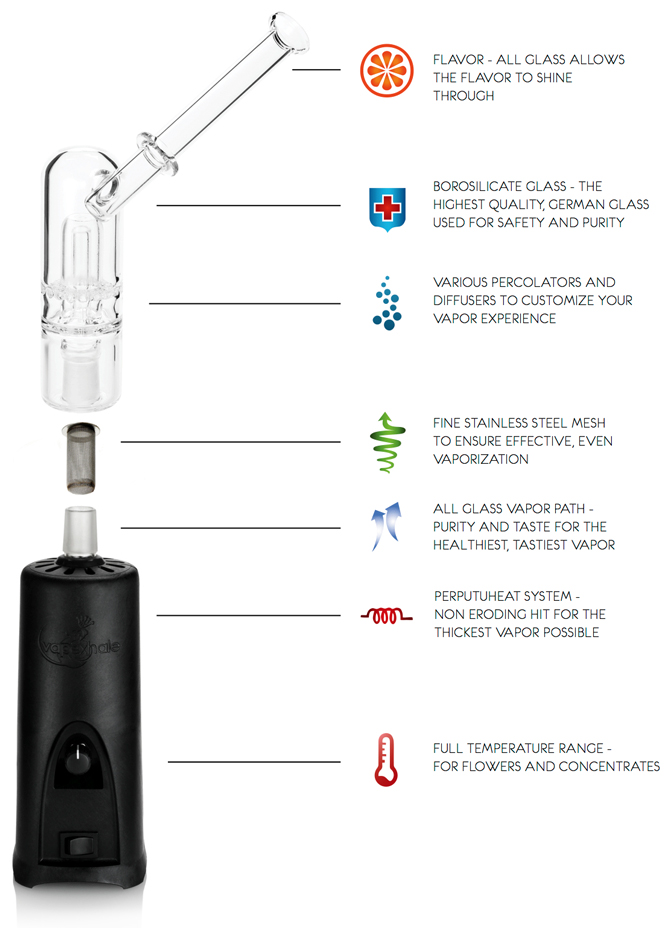 The VapeXhale Cloud Evo is the new, improved version of VapeXhale's original Cloud vaporizer.  The improvements on the original model are many and various and appear to have made a massive difference.
Firstly, the VapeXhale Cloud Evo features an all-glass vapour pathway – a simple, but often overlooked feature that positively ensures pure, clean vapour thanks to the inert, non-reactive nature of glass.
Secondly, the Cloud Evo is equipped with an advanced convection heating system which the manufacturers call Perpetuheat (PHS).
Basically, the Perpetuheat system ensures that vaping temperature is consistent, irrespective of changes in airflow.  That means that you can inhale from the VapeXhale Cloud Evo however you wish.  There is no fiddly technique to learn with the Cloud Evo; rip on it like a bong or sip on it like a fine wine – you'll get exactly the same results – thick, milky vapour bursting with natural flavours.  The improved system also delivers faster heat up times, fully adjustable temperatures and the versatility to vaporize both dry herbs and flowers as well as wax, oils and sticky concentrates.
Best of all, the VapeXhale Cloud Evo is compatible with a choice of glass mouthpiece attachments.  Whereas the Volcano is designed for use with a balloon, the Cloud Evo's glass-on-glass joint can fit a standard glass mouthpiece attachment, or any of the optional Hydrotube glass water attachments.  The VapeXhale offers an unrivalled coolness and smoothness of vapour when used with a water bubbler attachment.
Not since the launch of the Volcano a few years back has there been such a leap forward in vaping technology.  The Cloud Evo is built by vapers, for vapers – a true connoisseur's choice for a desktop vaporizer.
The VapeXhale Cloud Evo comes packaged as a complete kit which includes everything you'll need to start vaping straight away, including your choice of glass Hydrotube.  As usual, when you buy the VapeXhale from EDIT you'll get free shipping, same-day dispatch and our famous price match guarantee.